Choosing The Right Foam For You
---
---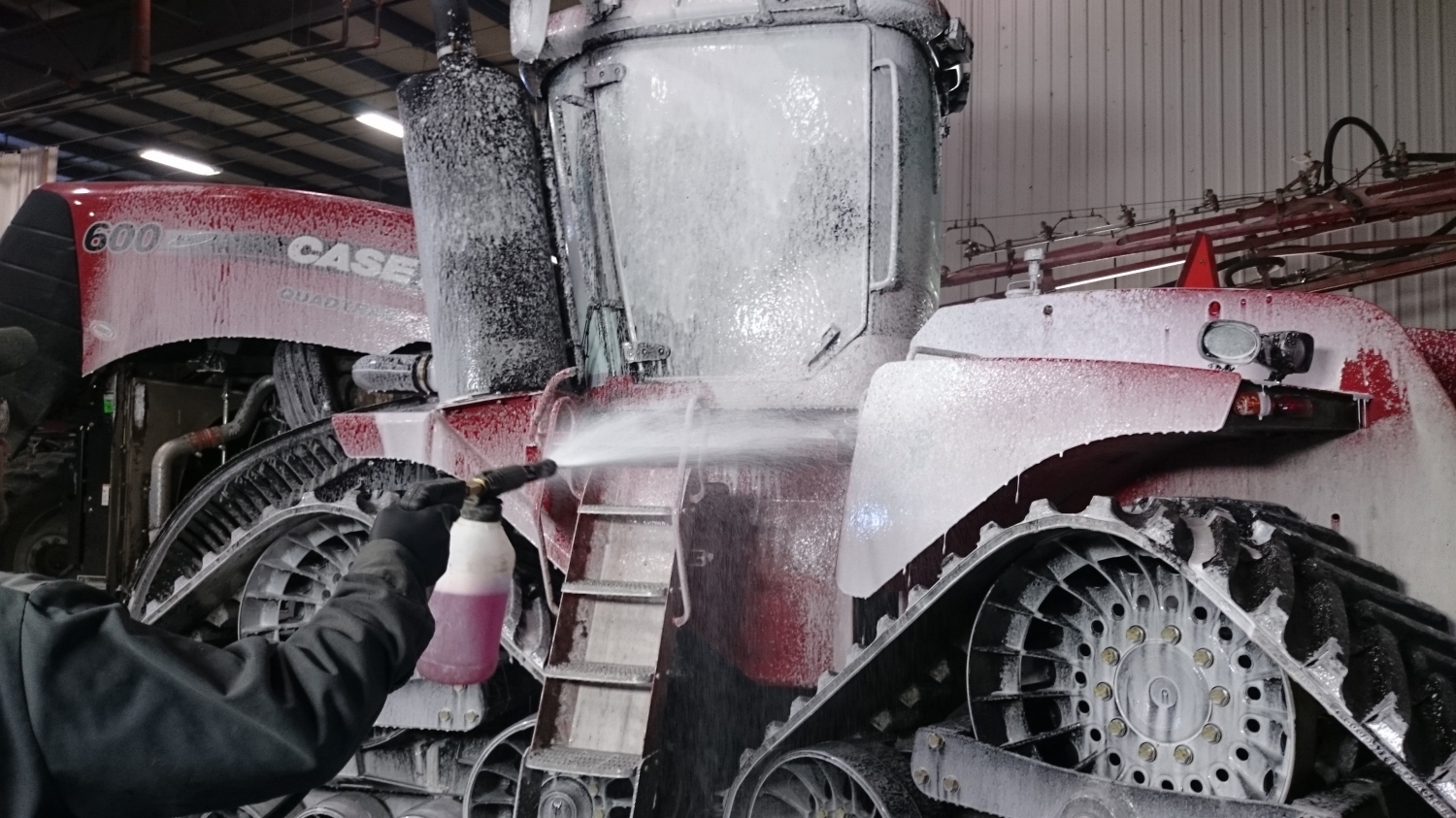 In our opinion, foaming can be an effective way to reduce costs while increasing productivity or, for some detailers, a new picture for their Facebook page. All over the industry, detailers are talking about the benefits of foaming and how it is a necessary step, or steps in some of their cases, to cleaning each unit. Others are adamant it does nothing but add cost. Depending on your needs and the product you use, foaming can either benefit your operation or seem like its adding an additional step and cost. Below we will talk about ways you can use foam and how to decrease the overall costs that can be associated with foaming.
The first step to getting foam into your wash process is deciding on which foaming unit to purchase. Due to their rising popularity, there are multiple options out there to choose from but every style of unit has their pros and cons. For example:
1. Air powered units like the Foam-A-Nator are fantastic for foaming wheel cleaners like the Brake-R or Wheels where you use very little to get the job done and the dilution of the product is simple. However, if you are looking to foam a soap onto the painted surface with this unit at a dilution rate of 1:100, we have found that wash bay attendants will use too much chemical and will re-fill the unit upwards of 4 times to completely cover the unit.
2. Pressure washer attachments are an inexpensive and versatile way to get into foaming. Our Foam Cannon boasts a 1L bottle and can dilute products up to 1:10 using a numbered dial. Just quick connect it to your pressure washer trigger and start foaming. We have found that some under dilution can occur with this unit but purchasing a mixing station for the chemical can alleviate almost all the wastage.
3. Wall mounted foamers are the best way to ensure constant foam quality and proper dilution of your chemical. Our Lafferty Foaming Units are the standard in the industry and use a combination of air and water to create a thick lather of foam on any unit. These units come in multiple options but the city water pressure and high pressure system options are our most popular. The water pressure is used to draw the chemical through a dilution tip to ensure that your product is being diluted properly every time.
The second, and last, step to get into foaming in choosing your product. Choosing the right product for you will ensure the workability and efficiency of your foaming system. What we see in the field is that most shops either want to get away from degreasing the exterior of dirty vehicles and equipment by hand before soaping, want to apply soap easily and into hard to reach areas, or just want to automate the process. What most clients don't know is that depending on the product you choose, you can do all three in one step.
X-treme Clean 2.0 High Foam is our most popular foaming soap for the industrial, agriculture, and trucking industries. Having been built as heavy-duty degreaser first than a soap, X-treme Clean 2.0 High Foam will cut through grease and grime on the toughest areas including engines, sprayer booms and more. A bonus to the X-treme Clean 2.0 High Foam is that it is Clean health meaning it doesn't contain any harsh chemicals including acids or butyls. You can rest assured that it will get the job done right the first time.
Another option many clients have taken is to purchase the less expensive Film Fighter, our most popular and cost-effective car wash product. It has been built as a high PH foaming soap that works great in self serve car washes and foaming systems. Film Fighter performs best when the job is to clean painted surfaces to a bright shine. Although it doesn't contain the heavy-duty degreasing agent that the X-treme Clean 2.0 High Foam has, it comes in at a very attractive price point.
Lastly if you are working on high-end vehicles, soft paint, or you just want a product that has lots of foam and lubricity the Thick and Blue is what you are looking for. It is a highly concentrated, high-foam bucket soap that contains the lubricity that some detailers are looking for. These Detailers will use the Thick and Blue when working on high end cars and softer paint to ensure no swirl marks are left behind. It can also be used to lubricate the surface when using a Clay Mitt to remove contamination. An added bonus is it's shaving creme like foam makes for great pictures!
Although foaming in most instances (especially agricultural) will raise productivity and/or lower costs, we have found some customer instances and processes where we would not recommend it. To see if the addition of a foaming system can improve your specific productivity and cost, call us for a consultation. We will take the time to understand your current processes and what you are trying to accomplish than recommend a solution and product that will work for you.
---